FluCoMa Podcast #14: Nicola Leonard Hein
Episode 14 of the FluCoMa Podcast where Jacob Hart talks with guitarist, sound artist, composer and scholar Professor Nicola Leonard Hein.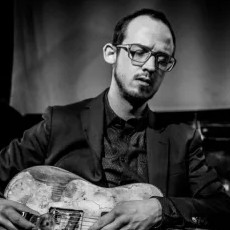 Nicola Leonard Hein
The Podcast
Chapters
Introduction (0:0)

Getting in to music (1:3)

Defining systems (3:37)

Tertiary Protentions (9:30)

Stiegler's tertiary protentions (17:16)

Spatialization (23:25)

Tertiary Protentions and others (28:22)

Transsonic (32:45)

Light as instrument (43:20)

The Human Robotic Ensemble (48:3)

People, systems and robots (51:40)

The audience and robots (1:0:50)

Guitar: the instrument (1:10:49)

Guitar and musical thinking (1:16:42)

Teaching digital creation (1:21:24)

Future of Nicola's work (1:30:38)
Overview
In this episode of the FluCoMa Podcast I talk with Professor Nicola Leonard Hein, a sound artist, guitarist, composer, and scholar currently based at the University of Lübeck. We learn more about Nicola's creative process, taking an in-depth dive into three of his works from solo work, to collaborating with other artists and robotic agents. We learn about his uses of machine learning in his practice, his relationship with his life-long instrument the guitar, and hear about his general views on aesthetics and musicking.
Links
Here are the links to some of the things that were discussed during the podcast: